Bottle Milk-yogurt Beverage Filling Machine
Product Detail
Product Tags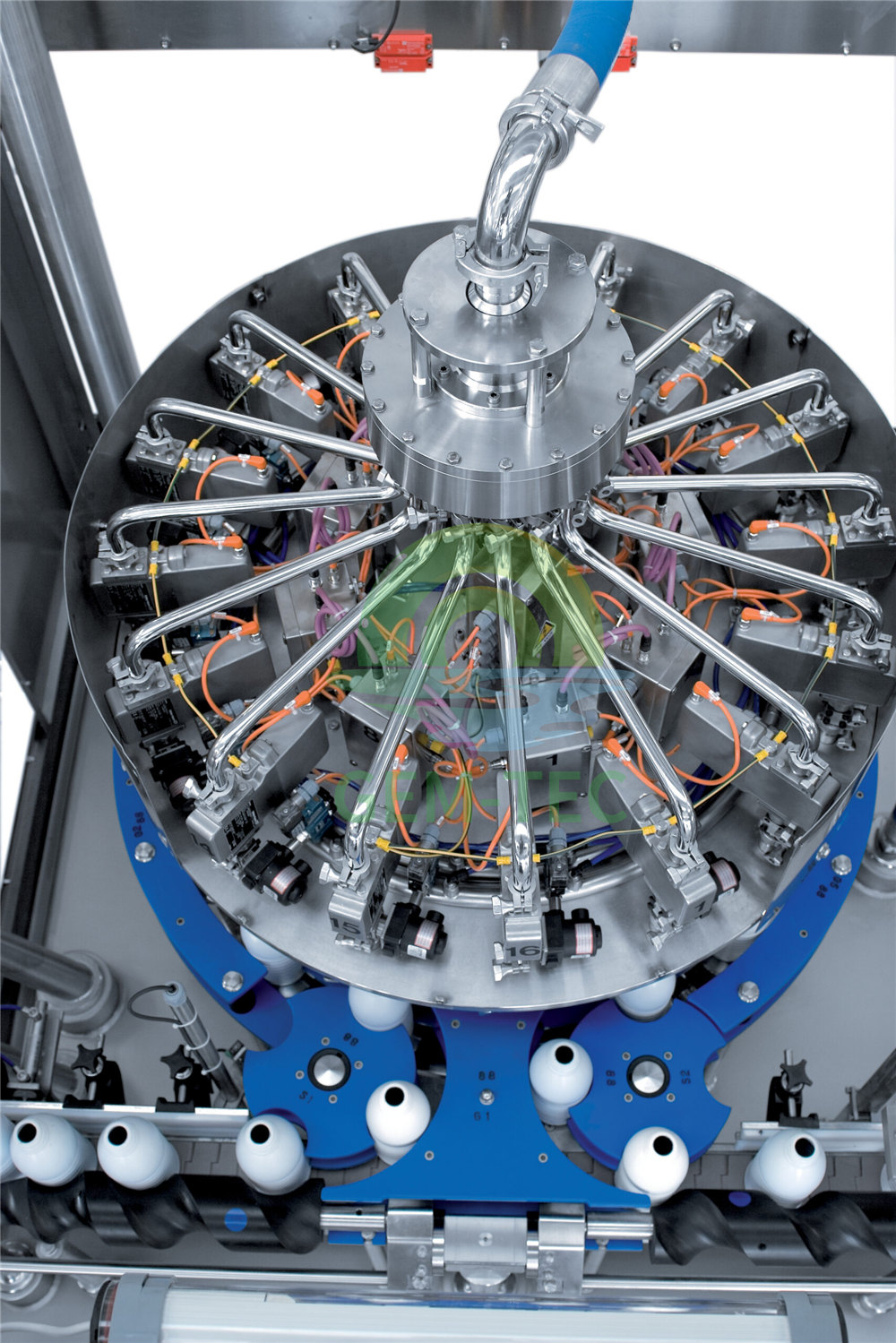 Milk is rich in nutrition elements, can provide the human body with a variety of proteins and active peptides, supplement the human body calcium, is an indispensable drink in People's Daily life. In recent years, demand for milk and dairy products in various countries has been growing as incomes rise, populations grow, urbanization and diets change. The variety of dairy products varies greatly from place to place due to factors such as dietary habits, available milk processing techniques, market demand, and social and cultural environment. At GEM-TEC, we help you achieve the highest quality and safety of dairy products through our complete low temperature fresh milk, milk beverage, yogurt filling production line solutions. We have developed different process requirements for different dairy products (e.g., pasteurized milk, flavored dairy drinks, drinkable yogurts, probiotics and milk drinks with specific healthy functional ingredients), as well as different nutritional components.
Low temperature fresh milk in glass bottles is suitable for local users to drink on the same day or the next day. It is pasteurized before filling (it can kill pathogenic bacteria and keep the flavor of milk nutrients unchanged). It has higher nutrient content but shorter shelf life. In contrast, the pasteurized milk drinks of probiotics after filling can reach a longer shelf life. These are dairy products with relatively high liquidity. For the yogurt is more viscous milk, filling needs pressure filling, filling capacity is measured by the weighing sensor.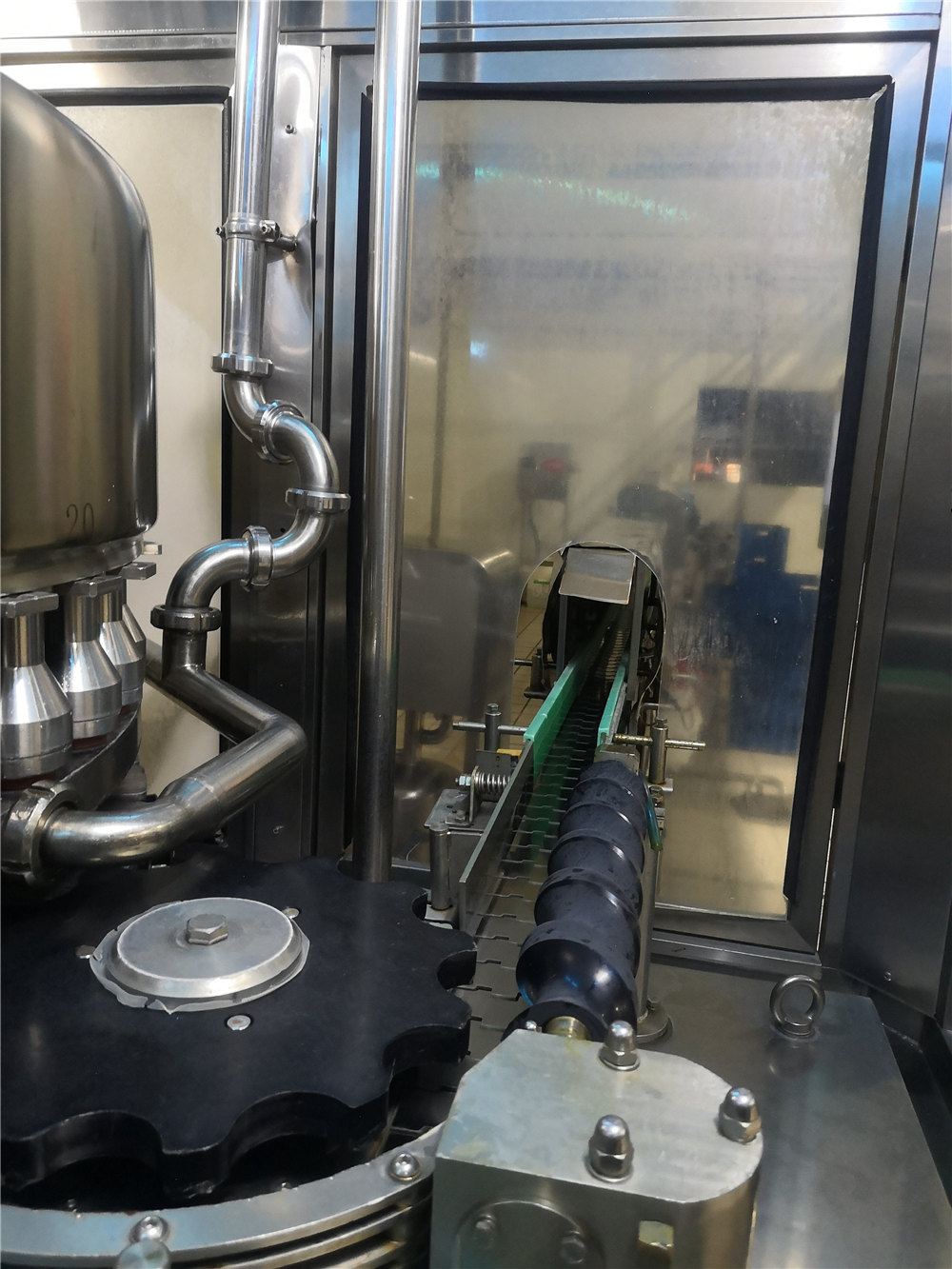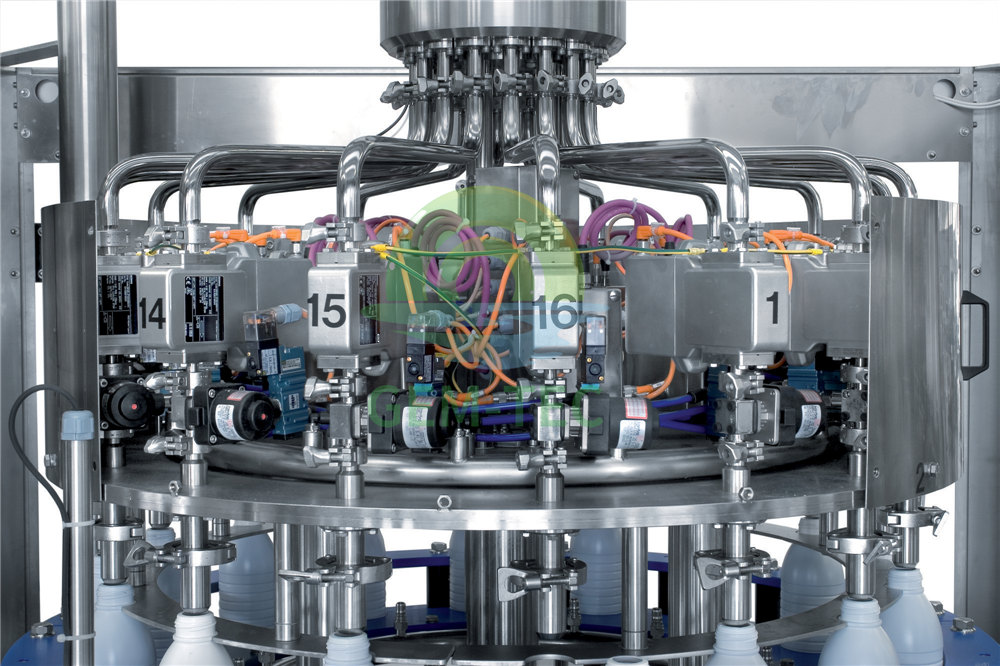 The flow of milk will produce a lot of foam, usually filling with vacuum mechanical valve, to avoid foam influence on the filling capacity.
Technical Structure Features
1. Usually filling valve adopts high-precision mechanical filling valve, electronic weighing valve/electronic flowmeter valve can be selected according to different requirements of products. No matter what kind of valve can be done without drip, avoid bubbling affect liquid level.
2. Siemens control system is adopted, with high automatic control ability, all parts of the function is fully automatic operation, no operation is required after starting up (for example: filling speed follows the whole line speed, liquid level detection, liquid intake regulation, lubrication system, bottle cap conveying system)
3. The machine transmission adopts modular design, frequency conversion stepless speed regulation, wide range of speed regulation. The drive is equipped with automatic lubricating grease device, which can supply oil to each lubricating point according to the need of timing and quantity, with sufficient lubrication, high efficiency, low noise and long service life.
4. The height of the material in the filling cylinder is detected by the electronic probe, and the PLC closed-loop PID control ensures stable liquid level and reliable filling.
5. A variety of sealing methods (such as: aluminum foil sealing, hot sealing, PE plastic easy to pull cover, etc.)
6. The material channel can be cleaned CIP completely, and the workbench and the contact part of the bottle can be washed directly, which meets the sanitary requirements of filling; Can be used according to the need of single-sided tilt table; It is also possible to customize automatic CIP fake cups that automatically mount without manual operation.
7. According to the requirements of different products, filling and sealing types can be matched at will. For users with high requirements for filling capacity accuracy, electronic quantitative filling valve can be used. As long as the changing capacity is adjusted on the HMI, accurate switching can be achieved.
8. The machine design is more user-friendly, simple structure, reliable, more convenient maintenance.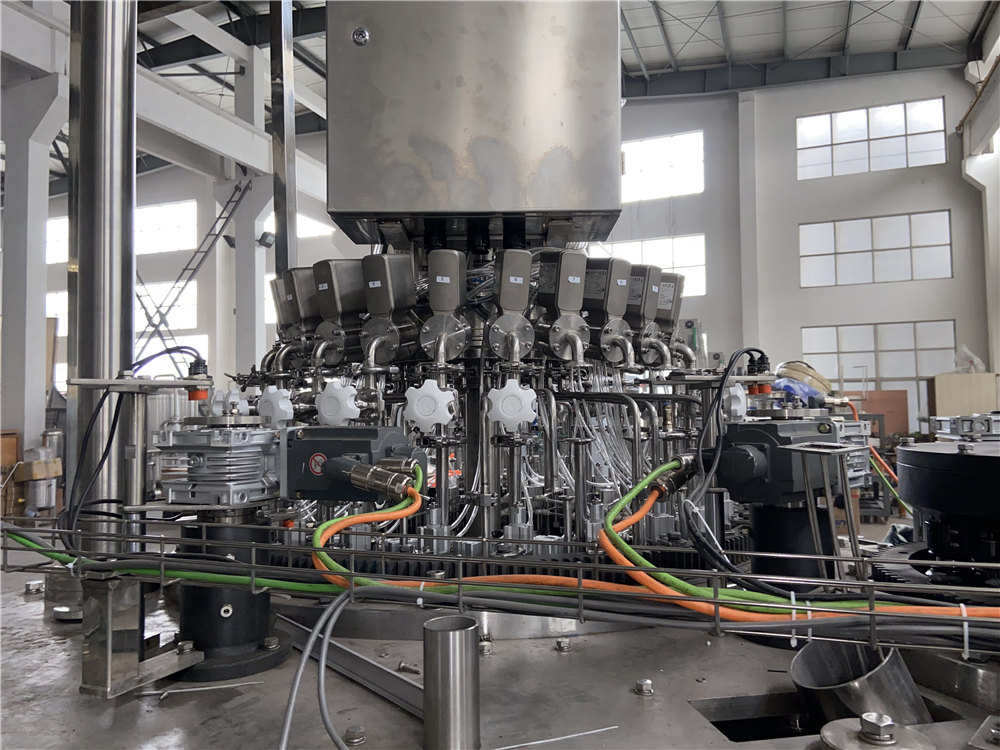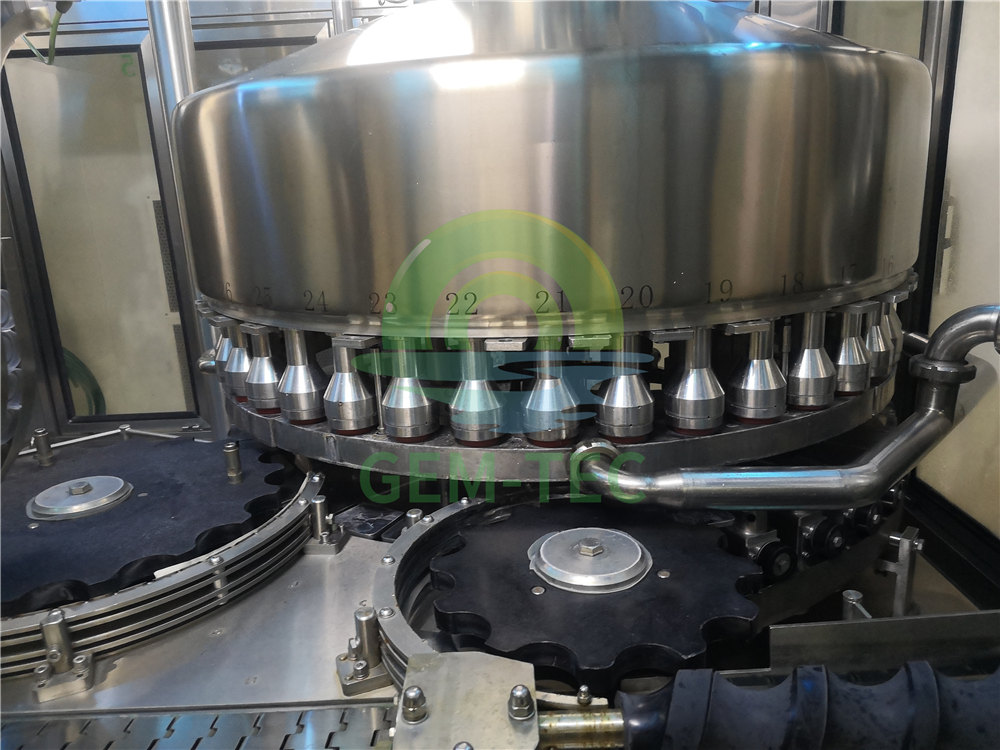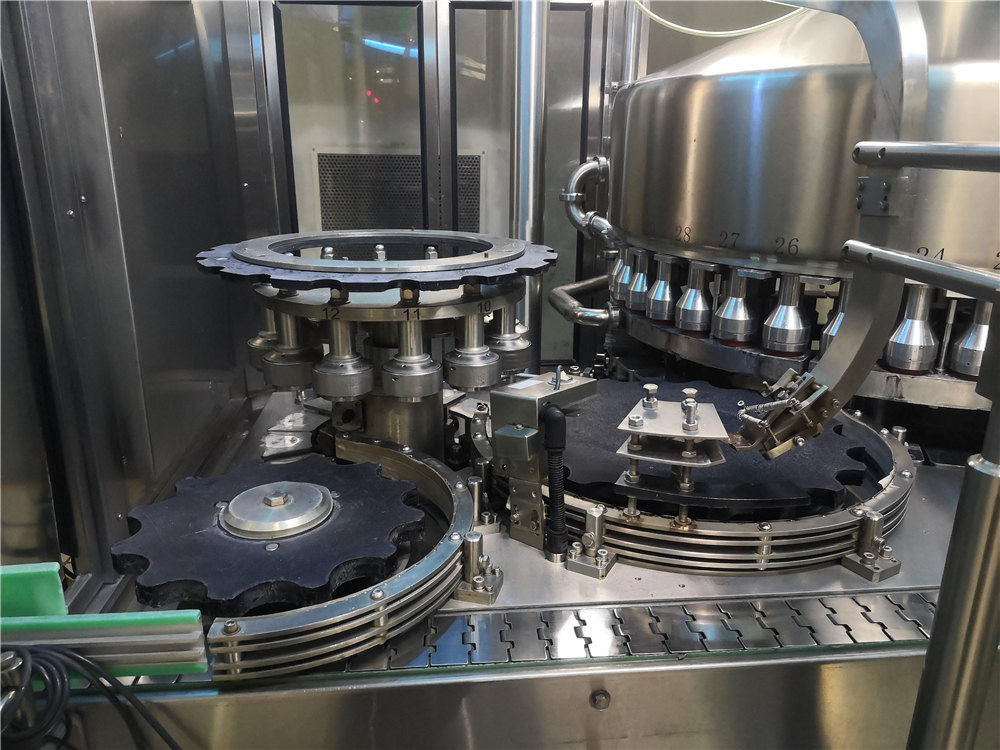 Main equipment parameters of glass bottle filling machine
| | | |
| --- | --- | --- |
| type | GFB24-12 | GFB40-12 |
| production capacity | 10000BH(200ml/B) | 20000BH(200ml/B) |
| Filling capacity | 80-500ml | 80-500ml |
| Filling form | Hold the bottle bottom | Hold the bottle bottom |
| Sealing form | Cold compression | Cold compression |
| Bottle mouth | Φ35-45mm | Φ35-45mm |
| Bottleneck | Φ50-70mm | Φ50-70mm |
| Bottle height | 110-170mm | 110-170mm |
| Total power | 6.8kw | 7.8kw |
| Compressed air comsumption | 1.0m³/min/the plastic cover | 1.0m³/min |
| Machine dimension | 2000*1800*2200mm | 2250*2000*2200mm |
| weight | 2400 kg | 4000 kg |
| Applicable product | milk 、set yoghurt | milk 、set yoghurt |
Main equipment parameters of plastic bottle filling machine
type
GFJ32-20
GF24-18
GF32-32
GF40-40
GF50-50-24
production capacity
5000BH

(200ml/B)

10000BH

(200ml/B)

18000BH

(200ml/B)

22000BH

(200ml/B)

27000BH

(200ml/B)

Filling capacity
500-1500ml
100-500ml
100-500ml
100-500ml
100-500ml
Filling form
clamp the bottle bottom
Hold the bottle bottom
Hold the bottle bottom
Hold the bottle bottom
Hold the bottle bottom
Sealing form
Heat-seal
High frequency, heat-seal
High frequency
High frequency
heat-seal
Bottle mouth
Φ25-40mm
Φ25-40mm
Φ25-40mm
Φ25-40mm
Φ25-40mm
Bottleneck
Φ60-110mm
Φ35-70mm
Φ35-70mm
Φ35-70mm
Φ35-80mm
Bottle height
200-300mm
100-200mm
100-200mm
100-200mm
100-200mm
Total power
14.37 kw
22 kw
33 kw
33 kw
43 kw
Compressed air comsumption
1.2m³/min
0.5m³/min
1m³/min
1m³/min
1.2m³/min
Machine dimension
3000*2250*2200mm
2000*1800*3200mm
2500*1800*3200mm
3050*2050*3200mm
5200*2650*2530mm
weight
4200 kg
2800 kg
6000 kg
7000 kg
12500 kg
Applicable product
Milk,soymilk
Milk,lactobacillus beverage
Milk,lactobacillus beverage
Milk,lactobacillus beverage
Milk,lactobacillus beverage
---
---