Automatic Small 3-5 Gallon Filling Machine
Product Detail
Product Tags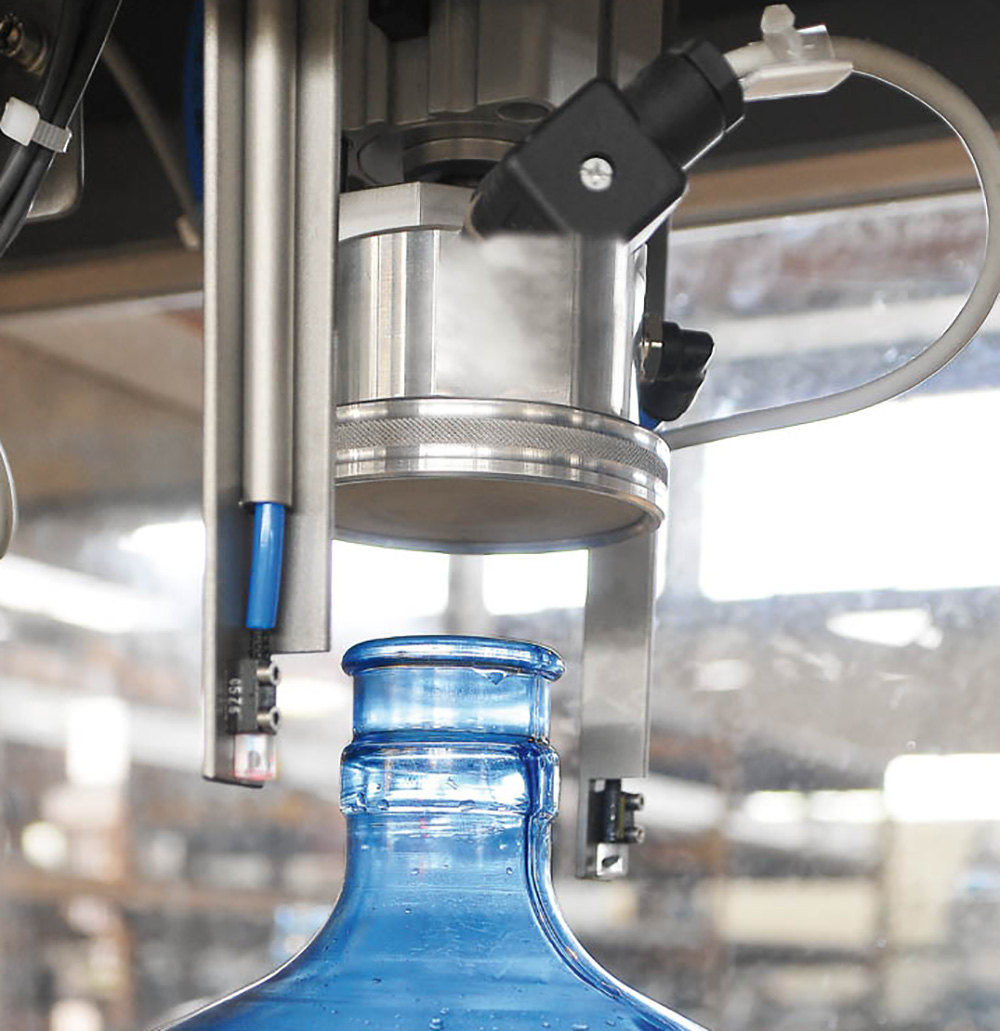 Industrialization and urbanization have concentrated populations, a process that has led to a huge increase in demand for bottled water. Whether it's water or carbonated water. Health consciousness is also driving strong growth in low-calorie flavored and functional bottled water. With no calories or sweeteners, water is a smart alternative to sugary drinks. Whether at home or in the office, large buckets of water can provide us with larger, healthier drinking water. The water can supplement the light mixture of minerals for a refreshing taste, or it can be pure and clean water.
JH-GF automatic barreling equipment is the best choice for 3-5 gallon barreled water filling, advanced technology, novel design, reliable performance, simple operation, scientific process, good video health conditions, production line set industrial control delivery, pre-washing in the bottle, automatic uncapping, outside the bottle scrub, bottle flushing, filling, cover, gland, lamp inspection, heat shrinkable film, bagging, finished water delivery, Palletizing of barreled water is integrated to realize intelligent automated production. The whole production line process is strictly controlled to ensure that the whole bottle washing, filling fully meet the national health standards and regulations, strict control of secondary pollution in the filling process, sit to ultra-clean production, is the ideal and reliable automatic barreling equipment production line.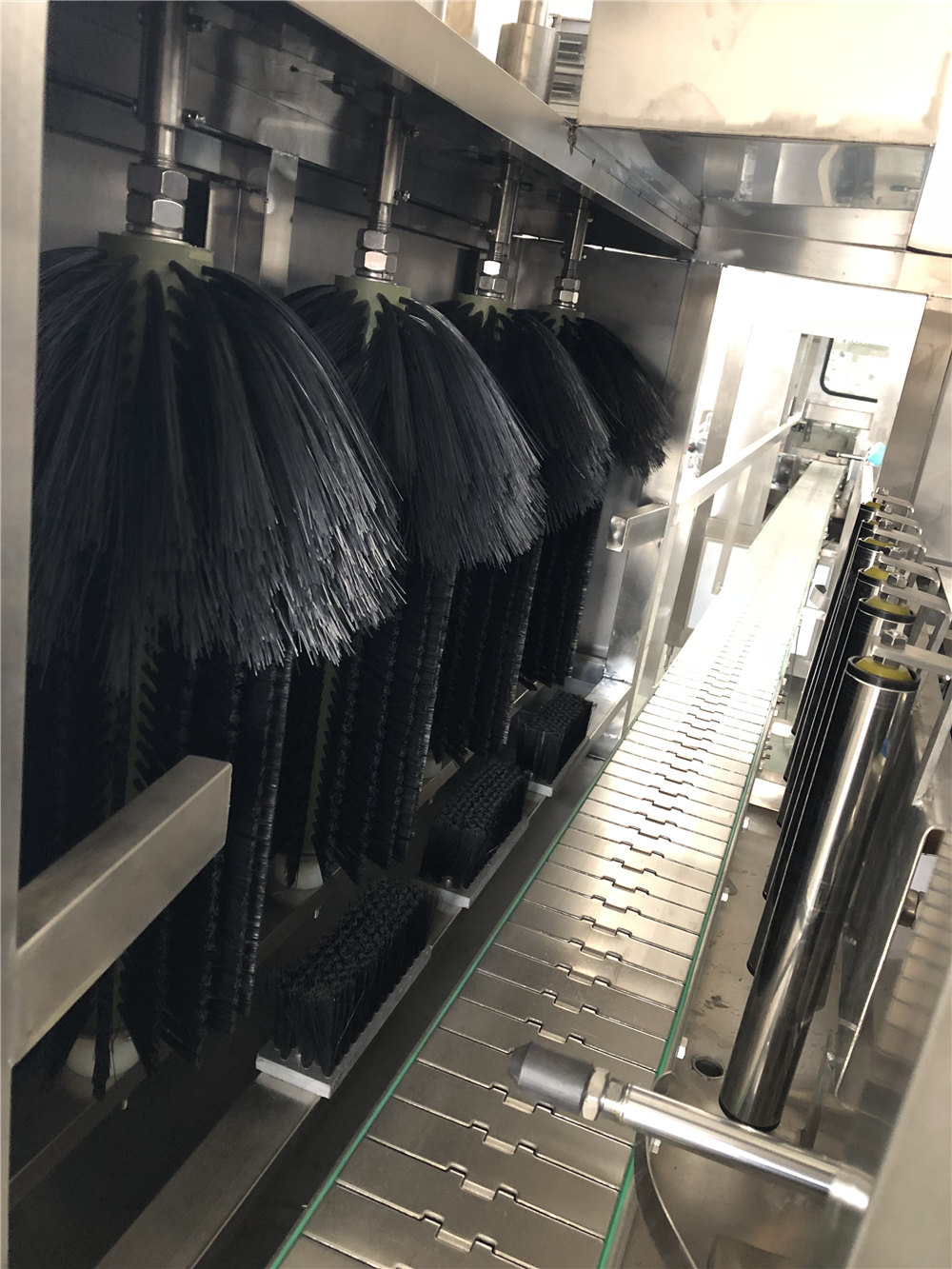 1. All functions are fully automatic and no operation is required after starting up (for example: machine speed follows the whole line speed, liquid level detection, liquid intake system, lubrication system, cover conveying system)
2. The material channel is easy to clean, the workbench is easy to clean, to ensure the product health requirements;
3. Rinse can use different media according to the degree of dirt cleaning, but also sterile air dry
4. The mechanical filling valve has large flow, simple structure, easy maintenance and stable filling level
5. The screw cap torque is easy to adjust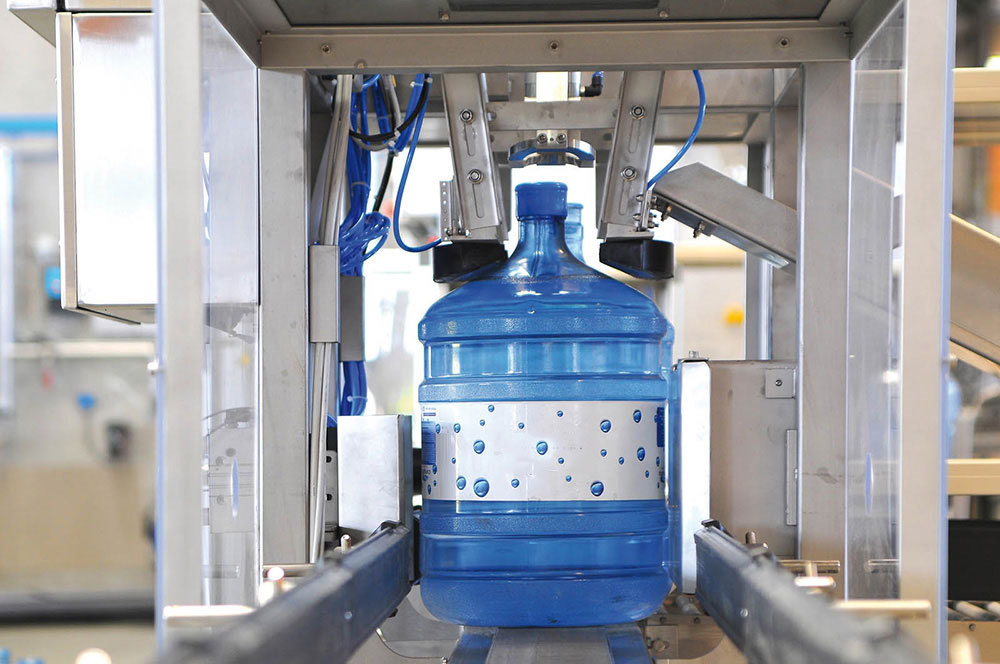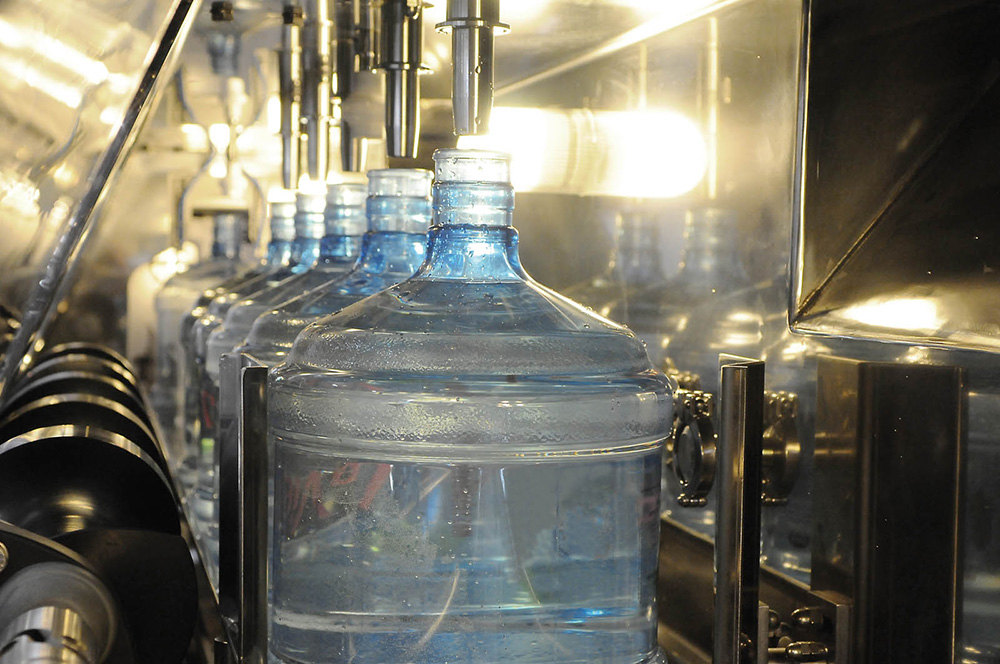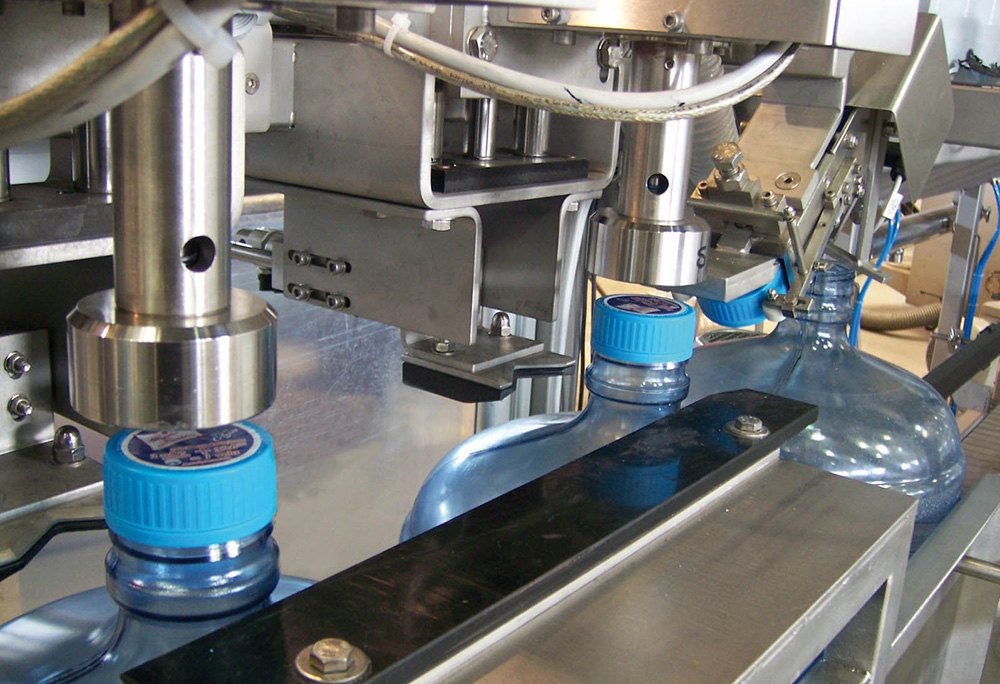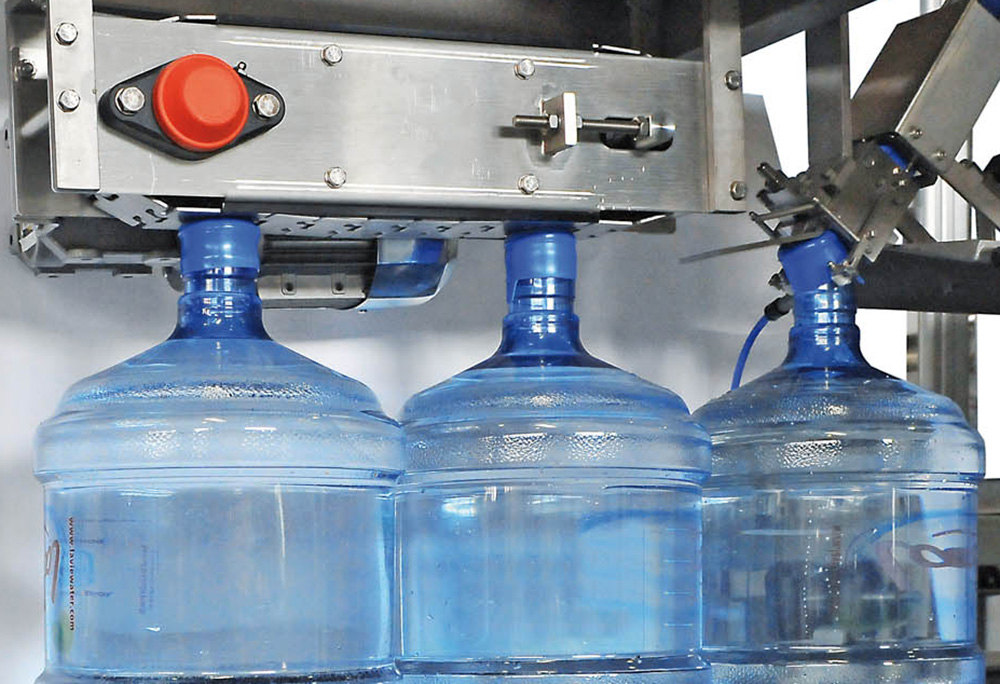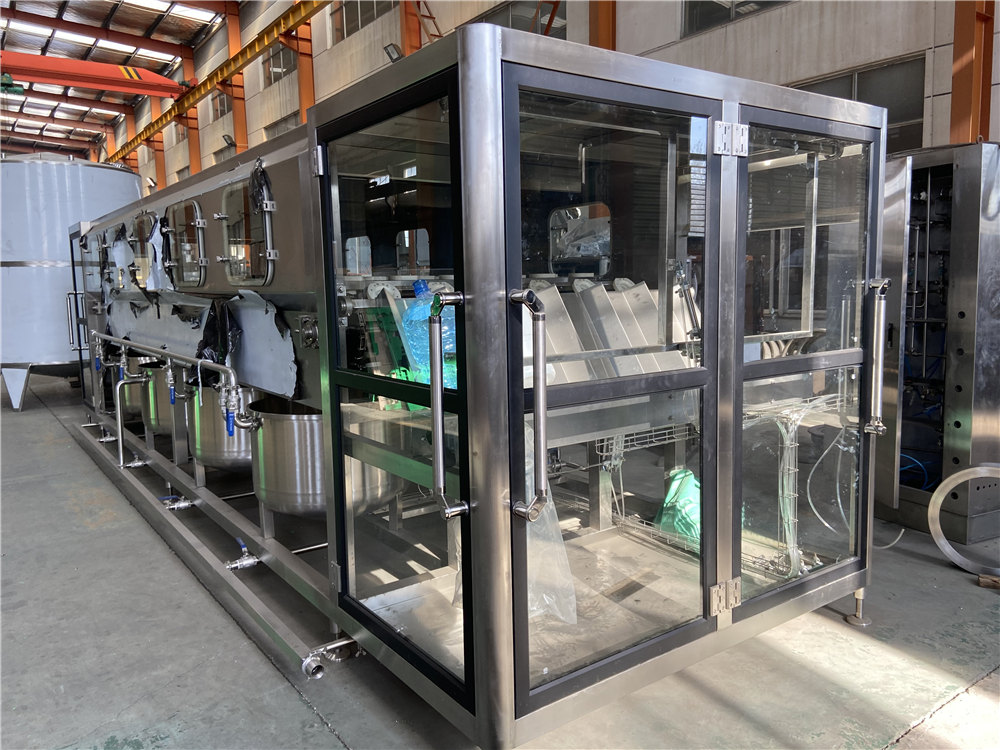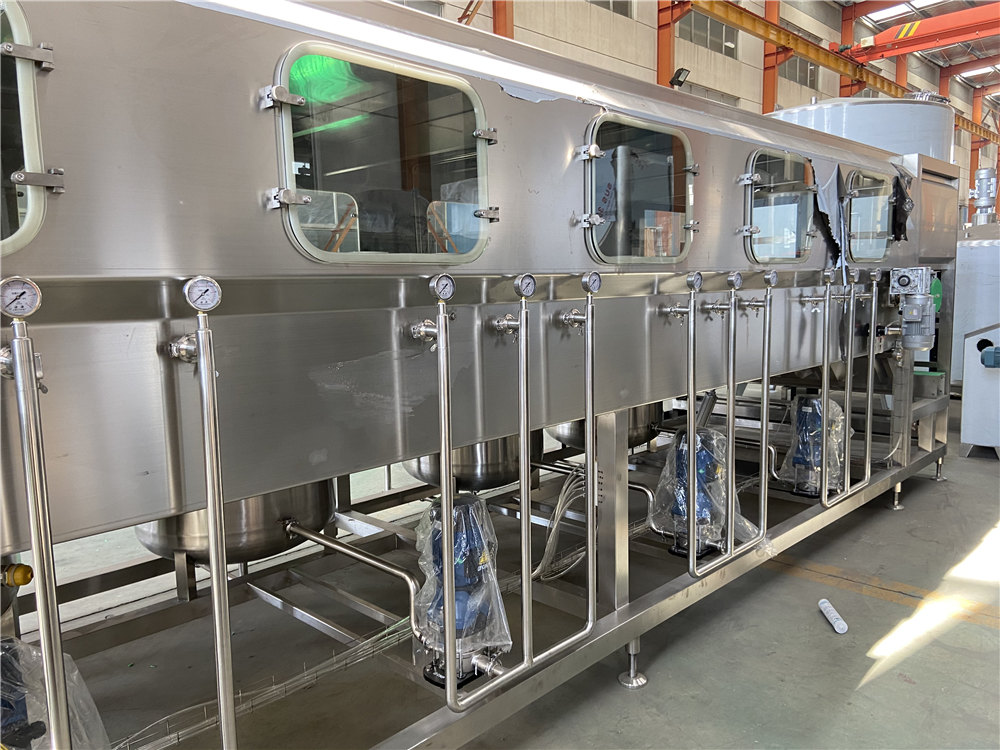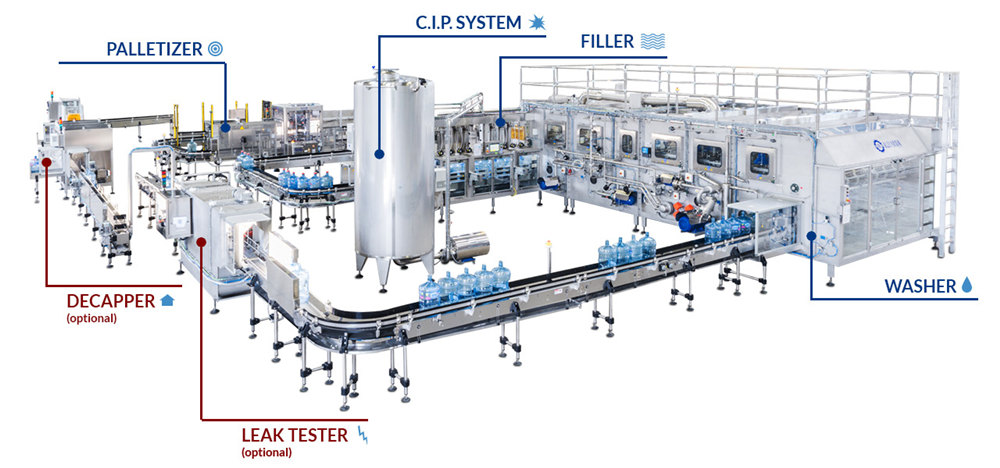 | | | | | | | | |
| --- | --- | --- | --- | --- | --- | --- | --- |
| Model | QGF-100 | QGF-300 | QGF-450 | QGF-600 | QGF-900 | QGF-1200 | QGF-2400 |
| Filling Heads | 1 | 2 | 3 | 4 | 6 | 12 | 16 |
| Capacity(BPH) | 100 | 300 | 450 | 600 | 900 | 1200 | 2400 |
| Gas consumption(m3/hr) | 0.37 | 0.6 | 0.8 | 1 | 1.5 | 1.8 | 1.8 |
| Powder(KW) | 1.4 | 4 | 4 | 7.5 | 10 | 16 | 16 |
| Weight(kg) | 500 | 1500 | 2100 | 3000 | 4300 | 6000 | 6000 |
Water treatment system
The water purification system can effectively remove turbidity of organic matter, iron, manganese and oxide in raw water, filter suspended matter, colloid, residual oxygen microorganism and some high metal ions. It can also reduce the hardness of water, so that all its specifications of water quality fully meet the national standards for fresh drinking water, and even meet the standards of healthy mineral water.
Purification process:
Raw water > pump > silica sand filter > activated carbon filter > Sodium ion exchanger > high pressure pump > Reverse osmosis > Ozone generator > water tank > pure water
Bottle blowing machine
This stretch blow molding machine is specifically designed to produce 5 gallon PET bottles. It is composed of main engine and rotating infrared heater. The infrared heater with high penetration can heat the inside and outside of the bottle blank simultaneously, and keep the bottle blank heated evenly, so that the molding quality is high. During production, the operator simply puts the heated billet into a blow mold and flips a switch, and the computer takes care of the process.
Blow molding process:
1) Bottle blank inlet control
2) Bottle blank heating control
3) Bottle blowing technology control
4) Bottle inspection and export
Remove cap machine and brush coating system
The cap opener is designed for 3 - and 5-gallon bottles in water production lines. It is used to pull the lid off the recycled bottle before rinsing. The combination of a digital camera and a fiber optic detector allows the culling of returned bottles under the following conditions: uncapped bottles, uncorked caps, bottle caps with only the top remaining, partially opened caps, and bottle caps not removed.
Automatic barrel outside brush machine is specially used with 5 gallon barrel water production line. It is used to reduce the settlement caused by certain algal substances in the mineral water itself and in the mineral water production process. The machine is made of high quality stainless steel, which has the advantages of easy washing and anti-corrosion.
Water filling and capping machine
The filling line is specially used for 3-5 gallon barrels of drinking water with a capacity of 100-1200 BPH.It integrates bottle washing, filling and capping. In order to achieve the purpose of washing and sterilization, the washing machine adopts multi-wash liquid spray and thiomersal spray, thiomersal can be recycled, and the capping machine can automatically cap the barrel. It can also automatically carry out bucket, cleaning, sterilization, filling, capping, counting and product discharging. It has complete functions, modern design and high degree of automation. It is a new type of barreled water automobile production line integrating mechanical, electric and pneumatic technology
Self-adhesive labeling machine
The sensor detects the passage of the product and sends the signal back to the label control system. The control system controls the motor to send the label and attach it to the location. The product flows through the labeling device, and the labeling tape drives the product to rotate and complete the labeling action.
---
---