Automatic Robot Carton Box / Shrink Wrapping Palletizer
Product Detail
Product Tags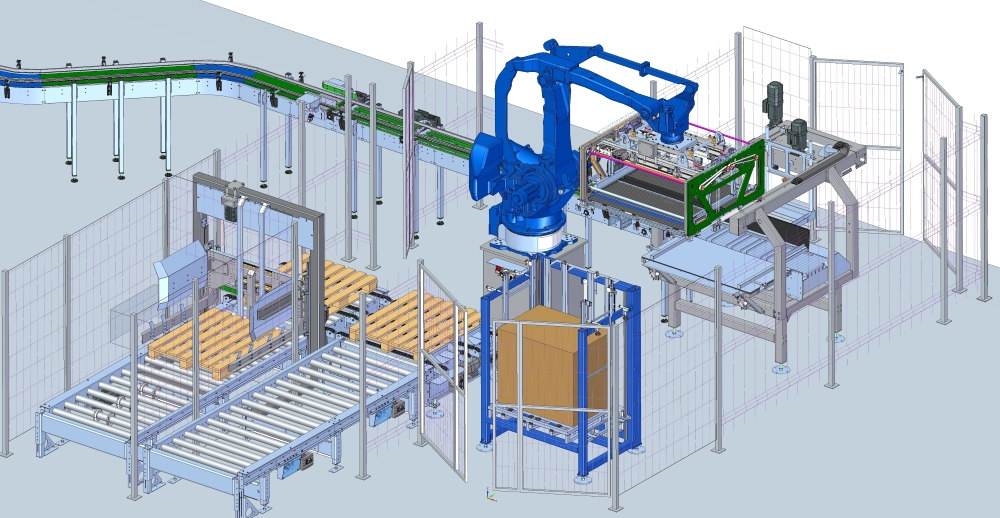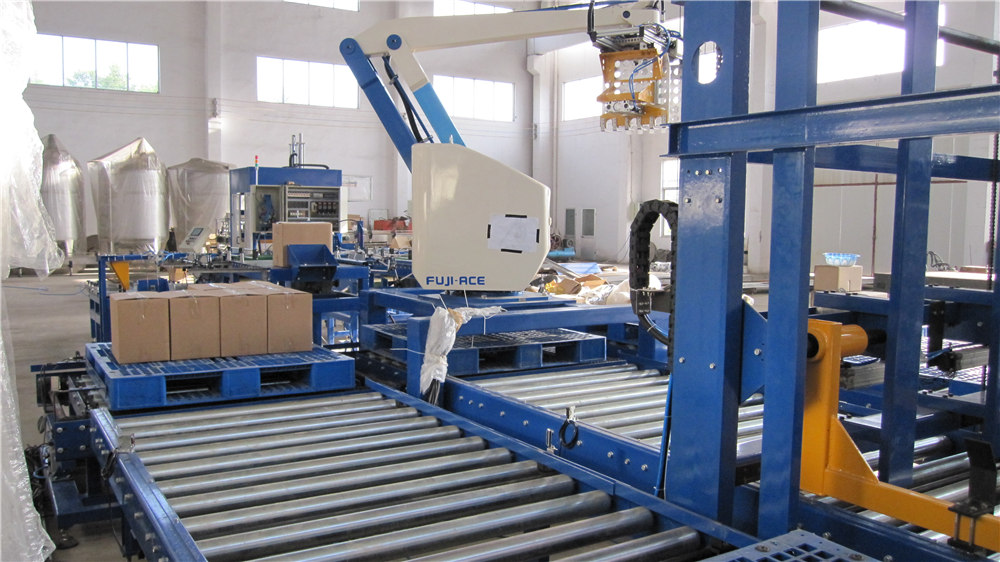 Robot palletizer is the product has been loaded into the carton, turnover box, bags and other rules of the product, through the conveyor line will be arranged and positioned; 10-12 neatly placed pallets are placed on the automatic pallet machine by forklift, and the machine automatically separates the pallets successively and sends them to the palleting position for positioning and palleting. The robot will grab the product through the special fixture, and in accordance with the pre-set placement on the pallet, the pallet conveyor line starts after the completion of the palletizing pallet output equipment, by the forklift fork to take off the line. The whole process is completed automatically without human intervention. Suitable for assembly line use, can greatly reduce labor and reduce labor intensity. Adopt the concept of high speed, stable and space saving design, faster and more space saving. One machine multi-purpose, quick adjustment, do not have to replace the stacked products and worry.
Scope of application: corrugated carton, plastic box, bucket packaging, bag packaging, etc.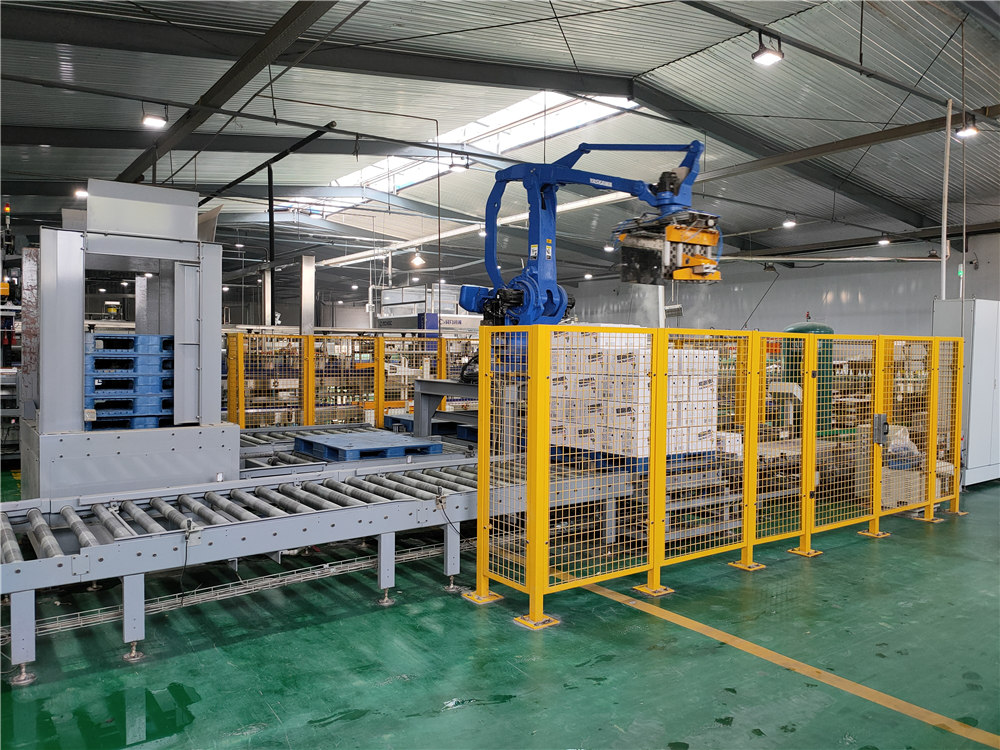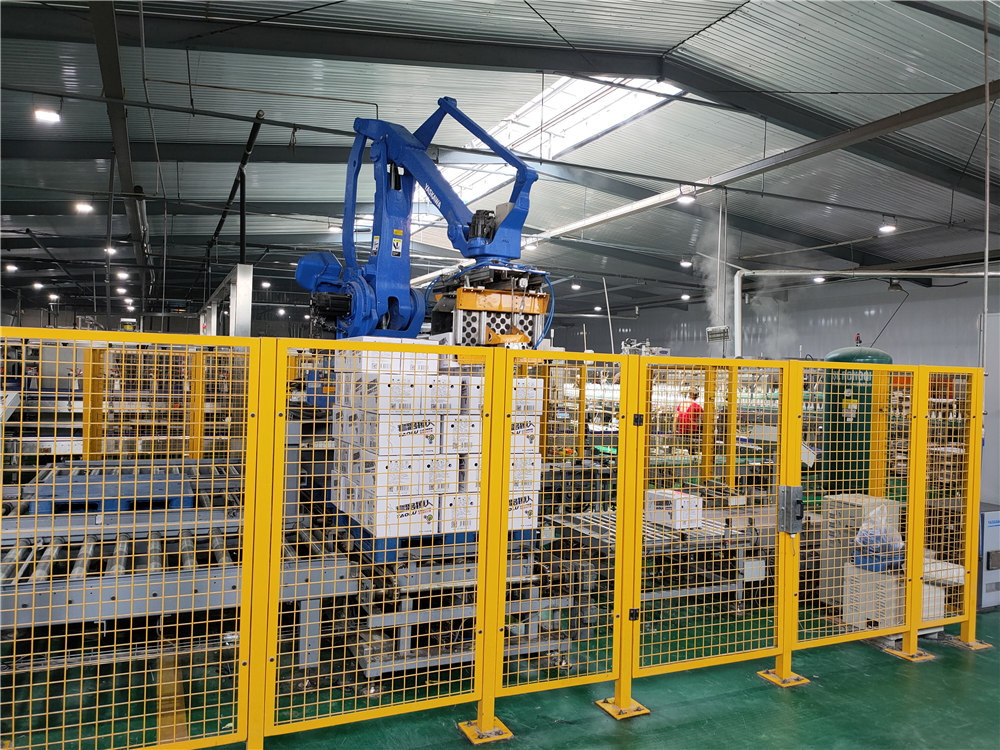 Equipment composition: product conveying line, grab positioning line, palletizing robot, base, fixture, pallet distribution machine, pallet conveying line, electrical control system and safety protection net, etc.
1. The use of ABB or KUKA or yaskawa stacking robots, to ensure that the stacking position is accurate and stable.
2. Can be preset a variety of palletizing procedures, change specifications can be called at any time on the touch screen, without replacing parts.
3. Flexible use, a robot can correspond to 1-4 different specifications of products at the same time palletizing, strong compatibility.
4. The pallet library capacity is large, can accommodate 10-12 empty pallet, can realize the automatic supply of pallet.
5. The use of international first-class brand electrical components, to determine the stability of the equipment.
6. Neat, beautiful and efficient; Can greatly reduce labor.
7. The touch screen operation to achieve man-machine dialogue, can display the production speed, fault cause and location, high degree of automation.
8. PLC can be programmed to control the number of stacking layers, pallet supply and discharge of cartons.
9. Control system: touch screen control, with manual, automatic operation mode, touch screen with the whole machine operation function.
10. Real-time monitoring of the whole process of equipment operation. All working steps are detected by sensors with self-diagnosis function. When any error occurs, the equipment will automatically stop, the alarm light will flash, and the error type will be displayed on the operating screen.
11. Independent electric control cabinet, control box with cooling fan, fluorescent socket.
12. The whole line is provided with a wire slot, and the outlet slot is protected by a hose.
13. Cables are marked with line numbers, and terminals are crimped.
14. The equipment to do the reciprocating motion of the cable using the robot special flexible cable.
The whole machine is equipped with a safety door, when the door is opened, the machine stops working to ensure the safety of personnel.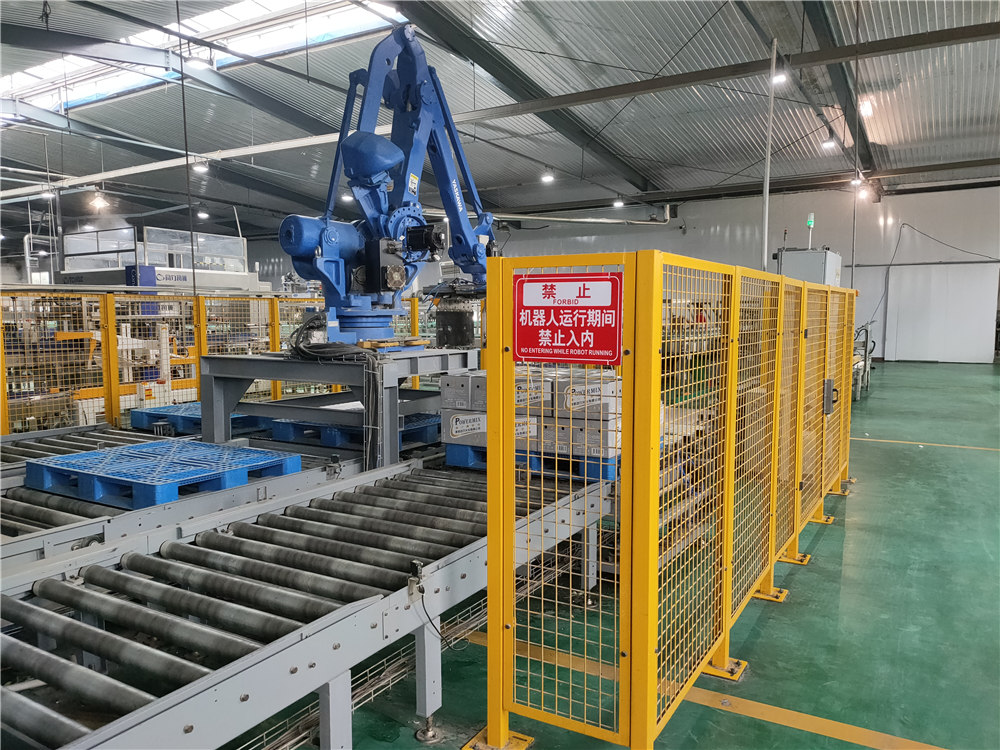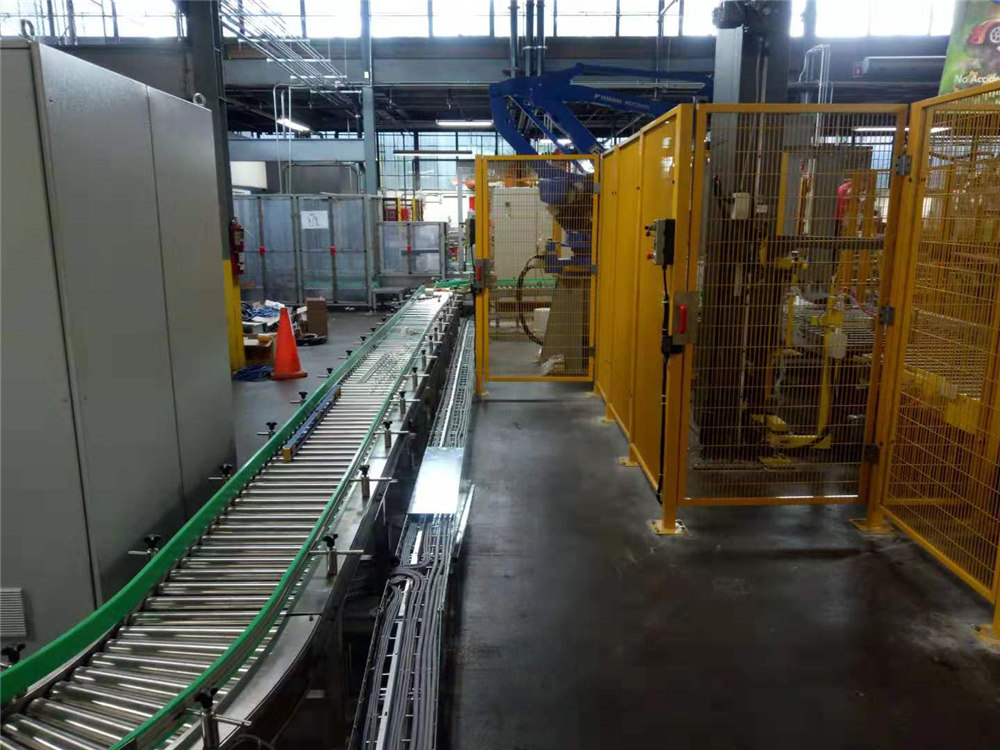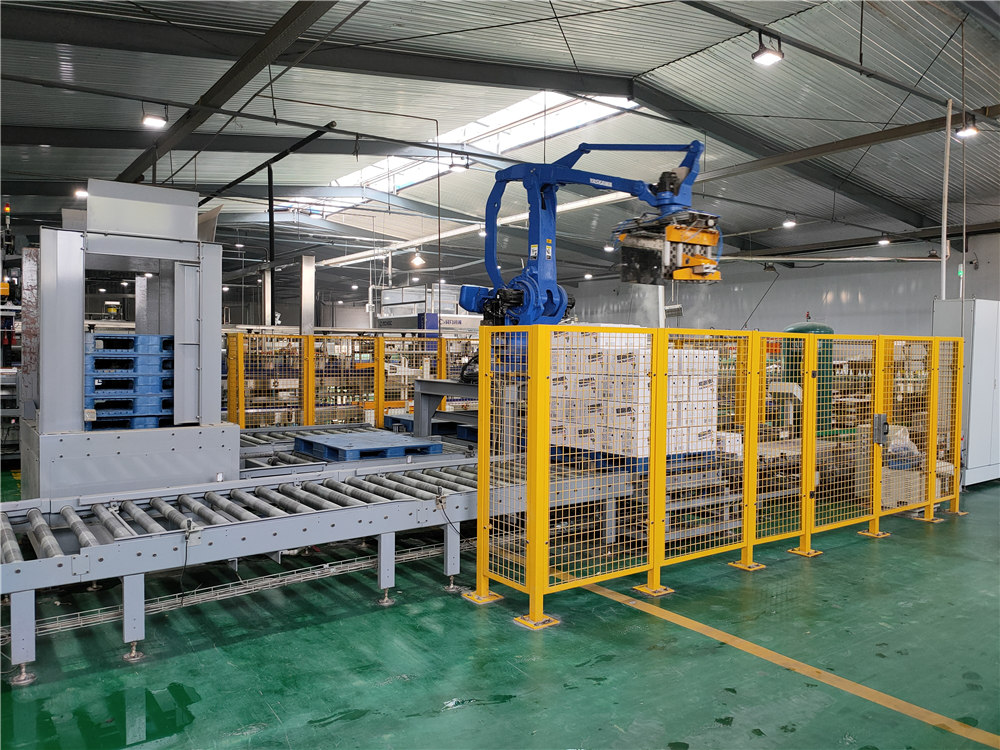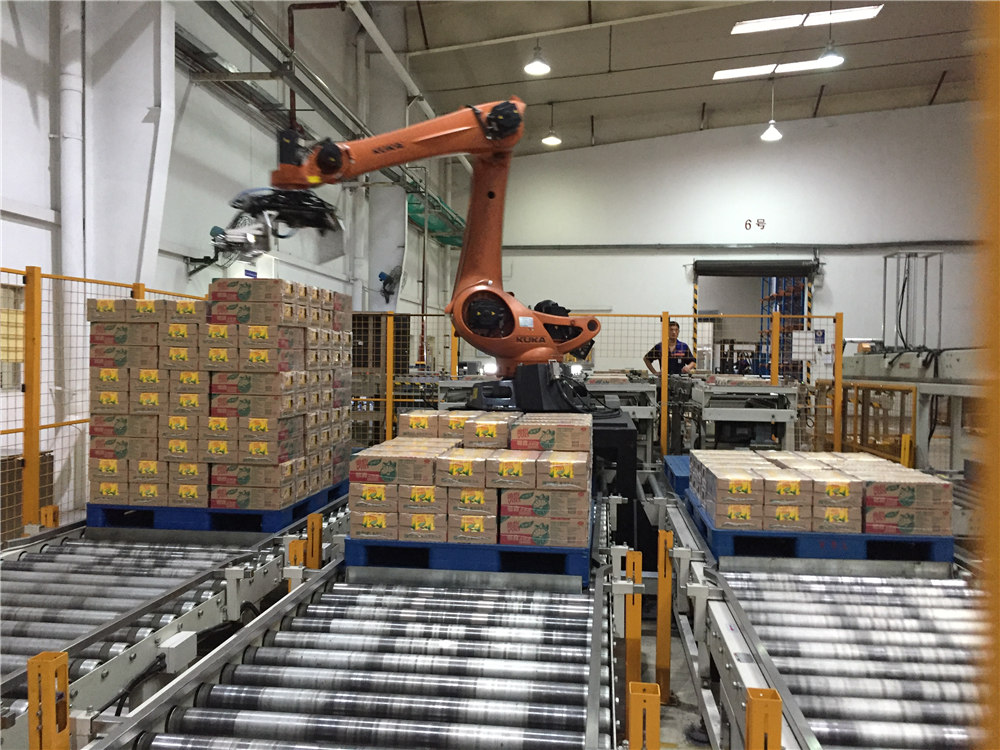 Type
XYMD-12/R
Power source
380V 50HZ 20Kw
Applicable product
Cartons, turnover boxes, bags, barreled products, etc
Product dimension
Customize as needed
Applicable pallet size
L1000~1200*W1000~1200*H120~150mm(According to the actual pallet design)
Arrangement mode
Customize as needed
Stacking height
≤1800mm

(Robot selection can be carried out according to requirments)

Speed
10-12 beats per minute

(According to the placement of the stack type can be more than a catch)

Air pressure
≥6 Kg/cm²
Gas consumption
0.2m³/min
Product transport height
900mm(Customize as needed)
Pallet conveying height
600mm(Customize as needed)
Pallet transport mode
According to the pallet structure can be used drum type, chain type, chain plate, etc
Machine demension
According to the actual layout
Machine weight
2000Kg
Equipment material
The main material is carbon steel spraying plastic, and the part in contact with the material is stainless steel

(Customize as needed)

Device configuration
(Customize as needed)
---
Previous:
No Pressure Conveying System
---